CC's Random Thoughts
Franklin, TN, USA
Manila, Philippines

Temperature:

As of :

Temperature:

As of :

Background pictures illustrate current weather conditions
CC's Tweets
---
Sunday, June 28, 2009
Chihuahua!
Current Mood:
CC is listening to: Manic Monday (the Bangles)

The last time I was over in Manila, my brother showed me this AMV that Steve and I just absolutely loved.
An AMV is an "Anime Music Video," where anime fans use video editing skills to create a music video using clips from anime shows. This AMV was funnier to us because we had actually seen a few episodes of GoldenBoy (thanks, Robin--you're going to love this AMV too, I know it :-)).
The guy did a GREAT job syncing the mouth movements with the song lyrics :-).
And this is the kind of song that sticks with you. Steve hates it when I sing it and then it gets stuck in HIS head too :-).
So anyway, fast forward a few weeks. I was at my boss's house helping things get organized for their move when I came across this Webkinz doll that was just going to end up getting donated: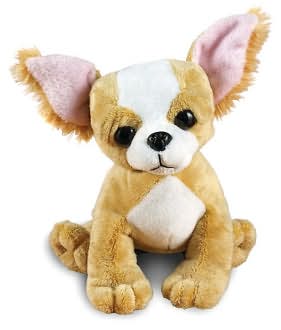 I just HAD to take it home :-).
This doll is now a running joke for us :-).
I hide it in his grooming bag. He unzips it while getting ready for work.
"
Chihuahua!
"
Two days later he takes it and hides it in my stack of ironing. I pull a shirt off.
"
Chihuahua!
"
A couple of days later I put it in the kitchen cupboard. He gets a mug for his tea.
"
Chihuahua!
"
This is going to be fun :-).
Labels: Found on the Internet, Home

Posted by Cecille Slish | 5:48 AM | 0 Comments |


Write or read comments about this entry
---